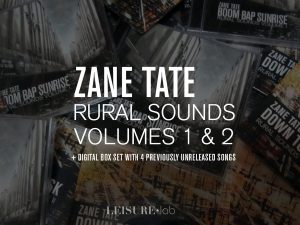 Exclusively on Bandcamp: buy Rural Sounds Volumes 1 and 2 on CD, and get a free download of Zane Tate's digital singles plus four previously unreleased tracks.
All of the things
Hello friends.  If you haven't heard, it's been ten years since my debut album Boom Bap Sunrise: Rural Sounds Volume 1 came out, which was my first real experiment in downtempo music.  Since then, I've produced a number of download-only singles that were similar in genre, but gradually progressing in theme. And then in 2014, I put out my second album Down to Dusk: Rural Sounds Volume 2.  Now you can get all of it in one big package.
The package
This collection contains every song ever released on the Leisure Lab label: both Rural Sounds CDs and a digital box set of all the download-only singles.  And bonus: this package also include four new (previously unreleased) songs.  Two of them are downtempo – "Late Night Storm" and "IPA," which I started during the Rural Sounds Vol 2 sessions.  And two of them are more deep house – "Sand" and "Connector," which I started around the "Escapism" sessions.
(Note: I couldn't includes "Escapism" parts 1 and 2 because those are licensed to another label).
How to get it
If you're interested in getting the whole package, it's really easy.  Just head to Bandcamp, buy Rural Sounds Volumes 1 and 2 on CD, and you'll receive a free download of the digital box set.  By the way, the digital box set also includes liner notes that I wrote to document the story behind each song.
Already have the CDs?
Don't worry: if you already have the CDs, you can still get this package.  Simply share a photo of your CDs on Facebook or Twitter and tag me to receive a free download code.